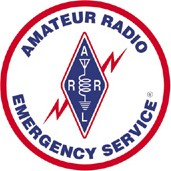 Frequencies
Local frequencies for SARES:
Sunnyvale ARES 2m repeater: 145.170MHz (negative offset) PL=94.8Hz, K6GL/R hosted by City of Sunnyvale DPS
Sunnyvale ARES 2m simplex: 147.405 MHz
Sunnyvale ARES 2m alternate simplex: 146.415 MHz
Shared Sunnyvale ARES / NASA 2m tactical simplex: 147.585 MHz
Sunnyvale ARES 70cm repeater: 443.275MHz (positive offset) PL=107.2, K6SNY/R;
this repeater is operated by the Sunnyvale Amateur Radio Service Repeater Group and hosted by K-Comm on Crystal Peak.
K6PHL maintains a SARES Channelized Frequency List spreadsheet, you can download a copy of the current version 7-3e here.

SPECS frequencies:
SPECSNET 2m repeater: 145.270MHz (negative offset) PL=100.0Hz, W6ASH/R
SPECSNET 1.25m repeater: 224.140MHz (negative offset) PL=100.0Hz, W6ASH/R
SPECSNET 70cm repeater: 440.800MHz (positive offset) PL=100.0Hz, W6ASH/R
SVECS frequencies:
SVECS 2m repeater: 146.115MHz (positive offset) PL=100.0Hz, AA6BT/R
SVECS 70cm repeater: 444.625MHz (positive offset) PL=110.9Hz, N6NAC/R
The complete Santa Clara County frequency list (on www.scc-ares-races.org).



The following HF frequencies have been established for communication with the Regional and State level of the OES:
40m 7.230 MHz LSB (daytime)
80m 3.992 MHz LSB (nighttime)
160m 1.987 MHz LSB (nighttime alternate)
The ARRL Pacific Division Section Managers met and established a set of HF frequencies to be used for inter-section traffic and as mutual aid common frequencies. These are to be used to establish initial contact between the responders and the destination operation. The Frequencies are:
3.987 Mhz LSB
5.332 Mhz USB (5.3305 Mhz) Channel A
7.232 Mhz LSB
14.265 Mhz USB
146.520 Mhz FM
All operations are phone.


last updated on $Date: 2016-05-04 20:02:08+00 $, document $Revision: 2.18 $.


© 2003-2017 SARES/K6OTT. All rights reserved.